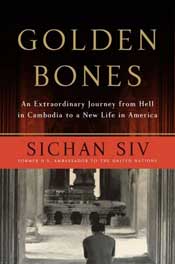 Sichan Siv is the bestselling author of Golden Bones, an American dream story, published by HarperCollins. He was nominated by President George W. Bush in 2001 and unanimously confirmed by the Senate as a United States ambassador to the United Nations, serving until 2006. In June 2005, Ambassador Siv addressed the 60th anniversary of the U.N. in San Francisco, following a tradition set by Presidents Truman in 1945, Eisenhower 1955, Johnson 1965, Secretary of State Schultz 1985, and Clinton 1995.
From 1989 to 1993, during the administration of President George Bush, Ambassador Siv served as Deputy Assistant to the President at the White House, and as Deputy Assistant Secretary at the State Department. In the private sector, he has held positions in social services, educational exchange, financial management, and investment banking. Currently, he provides global strategic advice and give motivational speeches around the USA and the world.
Ambassador Siv holds a master of international affairs from Columbia University. He escaped Cambodia's killing fields in 1976 and was resettled as a refugee in Wallingford, Connecticut. He and his wife, the former Martha Pattillo of Pampa, Texas, spend their time in San Antonio, New York, and beyond.